Rank Tracker is a Sharelytics feature that allows you to monitor your listing rankings over time and chart your performance against your competitors.  Since Turo and Getaround are always experimenting with the search algorithm to drive engagement. A successful Turo/Getaround host should be aware of how that affects their listing's rankings. This feature will make it easy for you to be aware and monitor all of your listings' search result rank. It'll also allow you to quickly spot improvements/declines in your search rank when you change photos/descriptions & pricing of your listing.
To highlight the importance of a listing's search rank, Turo has an official post with 6 ways to improve it:
1. Enable Book Instantly
2. Price reasonably
3. Write a detailed listing description
4. Update your calendar often
5. Increase your daily mileage allowance
6. Use nice listing photos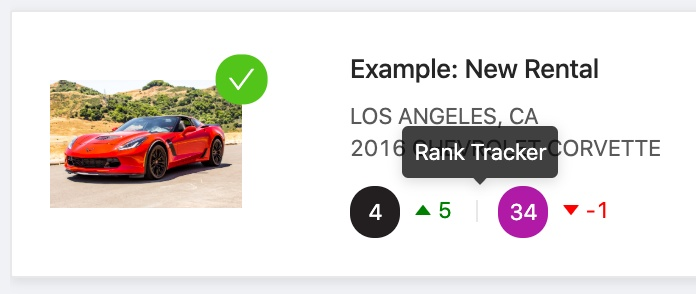 Once you've setup Rank Tracker, you will see your listing's rank.  If you are in the top 30, congrats you are doing well for yourself!  However, most listings won't be.  And god forbid you see a negative number- that means you are not even listed in the search results!  This is especially common for Getaround listings as they show less than 100 listings in the search page.  The common recourse in such a case is: apply the 6 steps highlighted above, wait a few weeks, if your rank hasn't improved then contact your Turo/Getaround rep and kindly ask, ditto if you include a screenshot of your Rank Tracker graphs to give more validity to your claim.  Hopefully they'll get back to you with tailored feedback on your listing!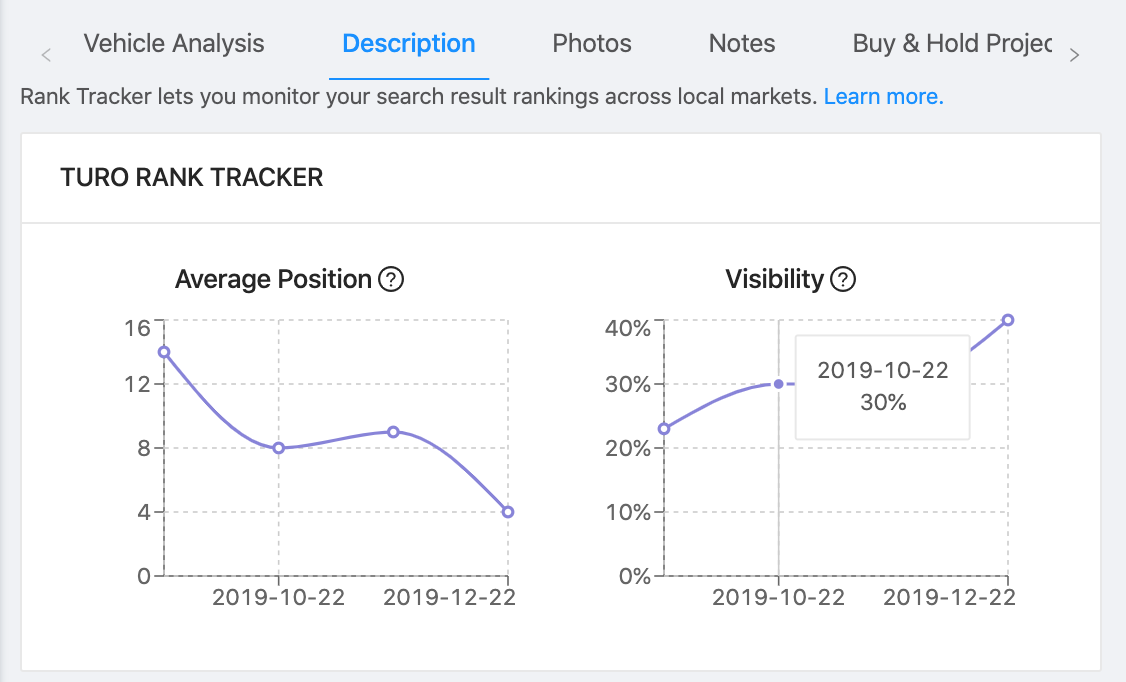 But the reality is no one really knows all factors (and the weight of each factor) that affect the search algorithm except the respective engineering team that built it.  The first and foremost option one should do is identify and be aware of where they are on the search results page.  This will help in qualifying how much visibility are your listings really getting.  Ultimately, most guests are finding you through the search results page- so it is imperative to know where your position is.
One can also setup a more advanced tracker that includes custom search filters by vehicle type, class, year, make, or model.  While we have support for custom filters- we don't recommend setting them up unless you have a specific use case as you may end up tracking position on a very small niche that doesn't get a lot of visibility even if you are ranked first.
So if you got here and are still wondering what does your search rank mean for your vehicle bookings?  Well, the higher your listing search rank will mean more potential traffic will be directed to your listing page.  Up to 50% of search traffic is up for grabs.  And logically, the more targeted search traffic you drive to your listing page, the higher your conversion rate will be for actual bookings!
Setting up Rank Tracker is really easy: just enter your public listing URLs!  Get Started Today >>
Increase your bookings through Benchmarking
Another commonly used feature with Rank Tracker is Benchmark.  It introduces tailored-to-you data that helps hosts and mobility providers answer critical questions about your listings.  Learn more.